NEW DELHI: As
Tata Group
prepares to revive its 1932-founded
Air India
with a record-breaking aircraft order, soon-to-be-17 IndiGo is operating its highest number of daily flights — 1,800 — with a fleet of 308 aircraft. It is also preparing for a network expansion from 102 destinations at the moment to over 115 by next April. A majority of this growth will be international and the low-cost carrier expects to fly almost 10 crore passengers in FY24 — 2 crore more than this financial year.
Due to its last 300-aircraft order placed in 2019, the domestic market leader says it is well placed to cash-in-on the resounding resurgence in travel being witnessed since last November, with a steady supply of planes and is in no hurry to place its next order. "We still have 500 single-aisles yet to be delivered…. very well positioned all the way till the end of the decade to grow our network from current 102 (76 domestic and 26 international) to range of 115 at the end of next fiscal year," IndiGo CEO Pieter Elbers told TOIon Thursday.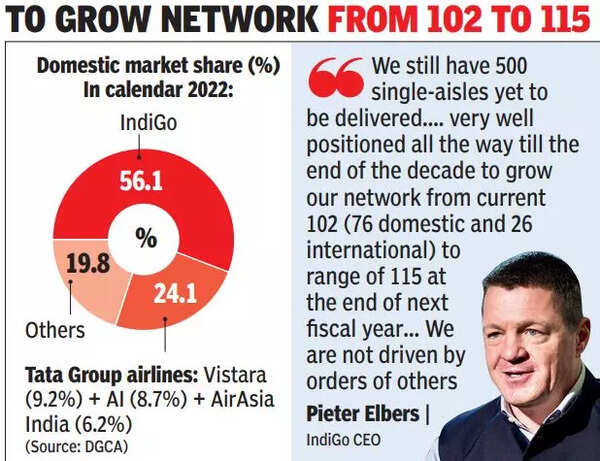 IndiGo says the AI order is "massive by any standards". Two of the top five airline orders in the world are from Indian carriers — AI's record highest and IndiGo's 2019 order for 300 planes. "All that points to India being a surging aviation nation going ahead and the recent orders speak for that. For us at IndiGo, we take decisions at the time that is right for us. Our most recent order was placed in 2019 and today we benefit from that due to a steady influx of aircraft. . . We look at competition moves (but) are in a good place (order wise)," he said.
IndiGo has just wet-leased two wide-body aircraft from Turkish Airlines to operate Istanbul flights. Asked if this experience succeeds will the LCC also go in for twin-aisles, he says, "We have never ruled out anything so will never say never. We keep all options open… no (need) to rush to any decision. We are not driven by orders of others. "
Of IndiGo's current daily 1,700-1,800 flights, 10% are international. "We are expanding our international network. We will start Nairobi and Jakarta flights this year… looking at more growth in central Asia and await further opening of China," Elberssaid.