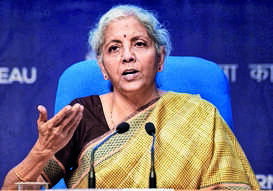 NEW DELHI: After months of deliberations, the GST Council on Saturday decided to set up appellate tribunals with
Finance
Minister Nirmala Sitharaman seeking to move the required amendments through the Finance Bill when Parliament reassembles for the second half of the
Budget
session.
Revenue Secretary Sanjay Malhotra told reporters that there will be a principal bench with states setting up their own benches. Each of the benches in the states will have two judicial members and an equal number of technical members, of which one will be from the Centre and another from the state. While only one member will decide cases with disputes up to Rs 50 lakh, cases above the threshold will be adjudicated by one technical and one judicial member.
The FM said states will have the freedom to decide the number of benches and their location apart from being given a greater say in the selection process than was originally envisaged.
The setting up of the GST Appellate Tribunal has been an area of dispute between the Centre and states and it has taken several months for them to come on board.
"It is good to see more clarity emerging on the
GST
Tribunals as this has been a long-awaited measure for businesses to avoid approaching high courts for GST matters," said MS Mani, a partner at consulting firm Deloitte India.
The draft of the modified text will be shared with the states within a day and based on feedback from them, the final draft of the legal text will be shared, Sitharaman said.
"It appears that the number of technical members would not exceed the judicial member, aligning with the decisions of the Supreme Court. We hope and look forward to the draft bill getting finalised in the coming weeks," said Charanya Lakshmikumaran, partner at Lakshmikumaran & Sridharan Attorney.