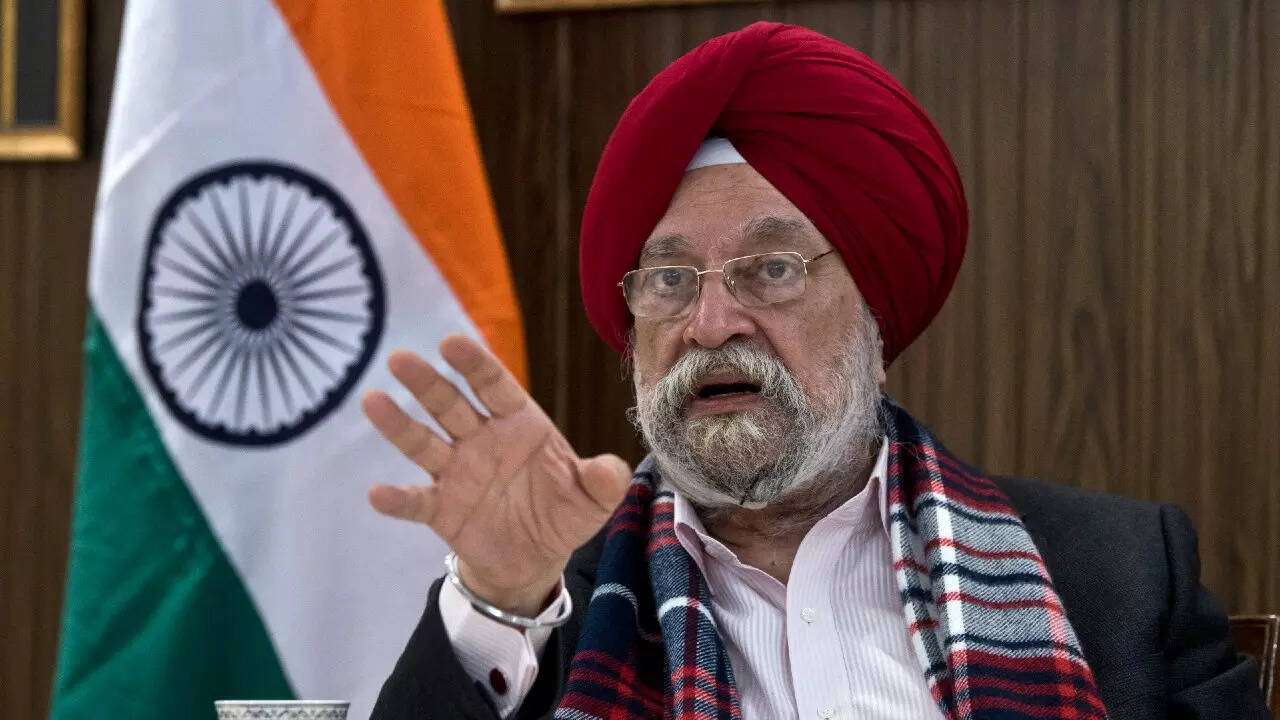 NEW DELHI: Petroleum minister Hardeep Singh Puri said on Saturday that oil companies will be in a position to look at the issue of reducing petrol and diesel prices if the international crude cost remains stable and these firms have a good next quarter.
He, however, added that he was not in a position to make an announcement on the issue. "As we go along we will see what can be done," the minister told a press conference at the BJP headquarters where he was asked several questions on petroleum prices and whether bringing them down is on the government's agenda.
He said state-run oil marketing companies did "okay" in the last quarter.
"They have recovered some of their losses. They have been very good corporate citizens. As we go along we will see what can be done," he said.
The Narendra Modi-led government has ensured that there is no rise in oil prices since April 22, the BJP leader said and noted that the government will ensure that consumers suffer no hardship.
One may like to give everything for "free" but then they enter the dangerous territory of freebie politics, Puri said, accusing opposition parties of doing "revdi politics".
The issue of pricing is a dynamic matter, he said, adding that the government has taken several welfare measures in its nine years term to help people.
Puri said it is the non-BJP state governments that are most vocal about petroleum prices even though they sell petrol and diesel at higher prices than BJP governments as they did not reduce VAT.
In this context, he referred to neighbours like Pakistan and Sri Lanka without naming them and noted the power crisis they have suffered.
The western neighbour has to cut down on electricity after evening, the minister said, lauding Modi for pursuing policies which kept availability and affordability under control while also pushing sustainability by promoting green energy.
The government is also working to push the country's refining capacity to 400-450 million metric tonnes from around 252 MMT now, he said.
Puri cited various data, including those related to the housing and urban development ministry, also under him, to assert that the government's policies are sound, forward-looking and well-intentioned, and it has a decisive leadership in Modi who makes them happen.
Taking a swipe at former RBI governor Raghuram Rajan for forecasting that India may not grow at a faster rate than 5-5.5 per cent, Puri wondered if this is what he wished and said he should have at least acknowledged his mistake after India clocked 7.2 per cent growth in the last fiscal.
An eminent economist who has turned to politics, Puri said in a dig at him and used the barb of "prophets of doom" to criticise critics like Rajan.
He cited growth in the infrastructure sector to mock Congress leader Rahul Gandhi for his jibe at the government that it is always looking into the rear view mirror to blame others.
"His eyesight should be checked. He may be wearing wrong glasses," the minister said, noting that the Indian economy has risen to the fifth position globally from 10 under the UPA government and citing other development figures.
When he goes abroad, he remembers minorities, Puri said of Gandhi and then mentioned the 1983 Nellie massacre of Muslims and the 1984 killings of Sikhs when the Congress was in power.
Lauding Modi, he said the government is characterised by "niti, niyat and neta" (policies, intentions and leader) as he has led from the front on every issue.